Restorative, Prosthetic and Cosmetic Dentistry
The CEREC Advantage
Dr. Violette, Dr. Patel and Dr. Therrien proudly offer single-visit crowns, inlays, onlays created with CEREC technology. We offer same day delivery of full ceramic crowns.
Traditional crowns, inlays, and onlays require two visits for placement. One visit to take impressions and prep the tooth and a second visit to place the permanent restoration when it arrives from the dental laboratory. Now with ''CEREC'' (Chairside Economical Restoration of Esthetic Ceramics), the dentist can design, create, and place the crown, inlay, or onlay, in a single visit. No messy impression, no temporary, no follow up visit.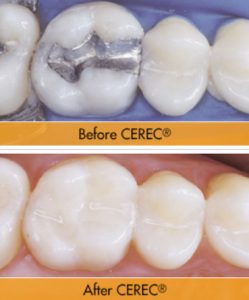 Composite Fillings
Crowns and Bridgework
The Canadian Dental Association recommends you see your dentist at least twice each year for a checkup.
Dental Implants
With over 35 years' experience and a 99% success rate, with over a thousand procedures done, we are confident in re-establishing patient function, confidence and esthetics.
Bonding
One appointment bonding.
If you have a chipped, slightly misaligned, or otherwise imperfect tooth that needs cosmetic restoration, we may suggest one appointment bonding.
Porcelain Veneers and Cosmetic makeover
Handcrafted from fine dental porcelain, veneers conceal imperfections and give patients their dream smile in just one or two visits.
Teeth Whitening
Our in-clinic teeth whitening procedure is quick, efficient, without sensitivity with advanced technology.
Videos related to Restorative, Prosthetic and Cosmetic Dentistry are located on the video page.